Recap of Previous Week
Last week we dug a bit deeper into the ideas of what the Metro carriage could be. We had two sessions of drawing. First, we drew what we liked about the Metro, and then we started with the "What if…?" scenarios. These were short texts to help us speculate what if the metro carriage was something completely different, something we haven't thought of, to help us think outside the box.
For details see previous week's summery
, but we recapped some of the take away points:
• We should speak to MWC's joinery, because maybe they can perhaps build some of the furniture actually on site
• Get teenagers involved in designing and building furniture themselves. This might be a good way of avoiding stuff from being vandalised, if they actually built it with their own hands.
• We talked about colours. TJ didn't like the current yellow.
• We talked about the lighting situation and that the windows should also be preserved.
• We developed the idea of dividing the carriage in two halves. One half would be a general hangout space.
• The other one would be the activity space. This way the hangout space is always available, even if activities take place. The hangout space is available to anyone at any time of day.
• For the mental health offers, it would be good to have a small private room where two or three people can sit and talk.
• It seems that we do need toilets, even if we don't offer hospitality, especially if the carriage is open at night when MWC is closed. We discussed different options, putting it inside, putting up a compost toilet or a portaloo outside, or needing late hours access to the café or garden to use the toilets there.
• We considered briefly if there could be some kind of emergency shelter for people to sleep in the carriage for a few nights, but this would have quite complex implications regarding facilities that would need to be provided and safeguarding measures (having staff on site 24/7).
• Providing a curved or semi-circular bench in the middle section where the two halves are joined.
• We will need some form of safety windows.
• There should a way of making decisions collectively. Local people, including teenagers, should decide what happens in the carriage and how the money will be spent. This is particularly important as the carriage should not just be seen as the space of MWC, but of all three organisations.
• There should be no alcohol drinking.
• There should be no spray painting inside.
Action Points
We revisited the open action points from last weeks' meetings.
•
Involvement of youth:
At the moment, we don't have any young people or under 18 sitting around the table. Several of us have been trying to reach out to Phoenix, and they have asked some young people, but it seems they showed very little interest. Sebastian wondered if we could go to particular places (like the skatepark or the graffiti wall) and speak to them there and and then and get their feedback on ideas. If anyone wants, they are still welcome to come to the next meeting. TJ suggested that we could maybe team up with the street play project, which will start soon and involves play workers going to different streets in Meadow Well, talking to kids, and providing sports and other activities. He will speak to them if we could come along and ask the kids in the community if they want to get involved. The street play project is open to anyone under 18 in the area.
•
Getting in touch with civil engineers:
TJ's friend turned out to be just an engineer, not a civil engineer.
•
Asking local businesses for help:
Liz suggested to speak to Cedarwood, they work a lot with local businesses. Austin offered to have a word with them.
•
MWC's woodwork barn:
TJ had a brief word with Kirt, who runs it. It is just him in the woodwork cabin and any clients he has in, so he is very busy. But if there is a group of young people that would build their own furniture, this could work. Austin suggested to also get two men from Cedarwood's Men Shed to help.
What if… scenarios
We repeated last week's exercise using the short "What if…" scenarios.
Sebastian: What if the Metro Carriage was a Bat Cave?
The prompt was:
What if the Metro car was a bat cave?
The Metro car is a sanctuary for bats, an endangered species in the UK. Bats find much needed space to retreat and be safe from human intervention. At the same time, the Metro car is also educating humans about bats and how to care for them. Local young people and adults protect the bat cave and run education programme. Draw a picture of the Metro car as a bat cave. How does it look inside and outside? Who goes there? What happens?
Sebastian chose this prompt. This is his drawing:
He drew it in two parts. One half is from the outside (right picture). All the windows are be boarded up so it's dark inside, but on the top window there are little holes so the bats can fly in and out. Outside it can still be graffiti, but it needs to be bat themed. He didn't know how it looks inside because he doesn't know how bats live, but some structures with lots of small spaces to hide. Liz suggested something to hang down from. Austin suggested to even grow trees inside the carriage.

The other half of the train would be an educational space. You enter through the normal train doors, which are preserved. Inside there are information boards on the walls and tables and chairs to learn about bats, create awareness about what bats need. He wasn't sure if this conflicts with the other side, because if you get a group of loud children in this might disturb the bats. Liz and Austin suggested to use a very thick partitioning wall to insulate the cave from the other side. There could also be little holes to look through to see the bats. Or we could have cameras with night vision inside the bat cave.

Austin: What if the Metro Carriage was a Community School?

The prompt was:

What if the Metro car was a community school?

The Metro car is an educational hub in Meadow Well for children and adults alike. It is self-organised and run by local people, who share their expertise with each other, providing training, skills, and knowledge to the community. Outside experts are invited as needed to deliver courses. Draw a picture of the Metro car as a community school. What does it look like inside and outside? Who goes there to teach and learn? What is being taught? What else happens?
Austin chose this prompt. This is his drawing:

On the top end he drew three toilets: male, female and disabled. He also put an easy access ramp to the carriage. He divided it in two sections. On the top there is a workshop with wood storage. There are also monitors on the wall, which one can use to show children or adults what the school is doing. There's also a kitchen to learn cooking.

On the bottom end there is a music room, with storage on either side and a wall-mounted telly or flat screen. You can also hire out the music room for parties. On the outside, everything is monitored by cameras, so it doesn't get destroyed.
Sebastian liked the idea of renting out part of the space to generate some income. Since it's quite a cool and unique place for a party, this might be very popular. If it is a no alcohol zone, then this might mean no hen parties etc, but you could still do get-aways with a sleepover (inside or in tents) and a barbecue outside.

Liz: What if the Metro Carriage was a makerspace for "Made in Meadow Well"?

This was the prompt:
What if the Metro car was a makerspace for "Made in Meadow Well"?

The Metro car is a hub for making local goods. Young and older local people become entrepreneurs or start co-operatives to generate wealth for the community. The label "Made in Meadow Well" becomes known nationally and internationally for high quality products. Draw a picture of the Metro car as a production space for local goods. What does it look like inside and outside? Who works there? Who buys there? What goods are being produced? What else happens?
Liz chose this prompt. This is her drawing:

Liz drew an area for craft, a seating area on the side, and three individual toilets in the corner. The craft and sewing area is equipped with sewing machines for anyone to come in and use them if they wanted to start their own business or learn how to use it. There is also a general craft area that can be sued for anything, for example woodwork, or jewellery making. There is also a room with chairs for people who want to come in and teach others how to knit, or how to crochet.

There is also a community space for people to sit and craft, knit, or crochet, or to have a cup of tea. There's the kitchen to have coffee mornings. For example, Liz knows a lady who knits and creates hats for the premature babies. This space would for her to connect to the community. Austin also knows someone from church who makes the poppies for Remembrance Day.
The makerspace is not just for older people, also young people want to learn how to do crochet and craft these days, since it's a big trend on social media.
Sebastian commented that it would be great to have equipment there anyone can use, since some people might not have a sewing machine at home. Having these facilities, people could make some of the interior of the carriage itself, for example cushions covers, curtains, or quilts.
Austin suggested that people that make craft on the estate could also organise a fair to raise money.
Gavin: What if the metro car was the Tate Modern of Meadow well?

The prompt was:
What if the Metro car was the Tate Modern of Meadow Well?

The Metro car is a renowned centre for contemporary art. Local and international artists are exhibited, drawing in visitors from across the country and abroad. It features a permanent collection and rotating exhibitions, as well as young and adult artists-in-residence, producing ground-breaking art on site. Draw a picture of the Metro car as the Tate Modern. What does it look like inside and outside? Who works there? Who goes there? What art is exhibited? What else happens?
Gavin chose this prompt. This is his drawing:

Gavin felt that one thing that's been missing from our debate so far is the fact that if you live in the neighbouring houses, the metro carriage impacts your view every day. Considering this, the outside of the carriage is the thing that matters very much. He drew a projection system like it is for example used at Lumiere in Durham. They use projection mapping to change and animate the outside of buildings, creating dancing scenes, which is quite a stunning effect.

Gavin thinks that it should be a priority to think about the people living in the houses and what they're going to see every day. When we speak to them, it should not just be about having this metro carriage but showing that it's actually going to make their view prettier, because it's going to be really aesthetic. His great uncle had a little cottage with an old water wheel. It looks stunning and is a beautiful place to live. He's not saying that projection mapping is the way forward, but you could have something very aesthetic, like a water wheel and even lean away from the metro carriage. It could be something that is in line with the area in a way that you'd want to see it every day and think, "Ah that's lovely to live opposite of".
In line with this, Liz expressed her concerns with the graffiti outside. As a resident, do you really want the teenagers to come and add more and more graffiti and spoil the carriage? Gavin believes that graffiti can be beautiful, but we also have two sides to the carriage. You could easily do the graffiti on the backside and allow people to change that. Austin brough in last week's idea of putting up a fence around the back of the carriage for gardening. The carriage could be the entrance into the whole compound, and behind the fence there could be spaces to grow vegetables and outdoor seating. We could put boards on the fence for graffiti, especially for those who are just learning how to do it.
Like TJ, Gavin doesn't find the current aesthetic of the Metro particularly eye pleasing, but there is a certain vintage look that we should leverage. The design of the carriage hasn't changed at all since the 80s, just some of the painting.
Sebastian agrees that it's important to make it aesthetically attractive for the neighbours, but he likes the idea of the metro carriage itself as an art canvas, not (just) the inside. He also doesn't think projections are a good idea, because it would create light pollution for the neighbours. Gavin argued that it can be done softly, but you also have to think of the electricity costs.
TJ expressed that a more nature-based outside decoration might be a good idea. We could have tables and chairs outside and organise movie nights where the projector is inside the metro carriage and projects out onto a wall or a screen; and people would be sat outside. Everyone liked this idea. Gavin liked TJ's nature-based idea and suggested that we could have a living roof or living wall on the metro.
TJ: What if the Metro car was the Eiffel Tower of Meadow Well?

The prompt was:
What if the Metro car was the Eiffel Tower of Meadow Well?

The Metro car is a landmark for Meadow Well. It the symbol of the estate. As a tourist attraction, it draws in thousands, if not millions of visitors per year. It regularly tops the lists of must-see sights in the UK. The attraction has knock-on effects on the estate, with a booming hospitality industry. Draw a picture of the Metro car as a tourist attraction. What does it look like inside and outside? Who goes there? Why do they come? What happens there?
TJ chose this prompt. This is his drawing:

He thought that the Eiffel Tower is in essence not much, you just go there and look at it. So in this spirit he though more of the things around the Metro Carriage itself, which would just be there to look at. He drew a dining experience next to it, a bar, and a café. There is a display to explain the history of Meadow Well and the Metro. As a tourist you can also buy guided tours of the carriage and the area.

There would be an outside dining outside area to accommodate more people, a gift shop, and a map of the area. You can buy souvenirs in the gift shop and Austin suggested there should be die cast models of the metro for sale. Or you could also make your own model in a workshop. The map shows other local businesses to boost tourism. To entre the whole area you'd need to buy a ticket, so there's also a ticket machine, perhaps one of the old Metro ticket machines.

There is also a metro simulator on site to simulate train rides. We discussed that the driver's carriage would be a good use for a train simulator. It is probably too small to be used as a toilet, unless we turn it into a male or female toilet and put a disabled toilet somewhere else. Liz suggested that we don't need separate male and female toilets. But both Austin and her would still create at least two toilets.
Gavin likes the idea of screens on the windows to simulate journeys, you could re-create a nostalgic Metro ride, or be on the Orient Express.
Sebastian likes that there is a whole outdoor space and it's not just the metro carriage. TJ agrees that it would be good to use some outdoor space, because the metro carriage, albeit long, is not very wide.

How could we…?

Afterwards, each of us selected one or two use cases and drew how the metro could look like on top of the schematics of the exiting metro train. We did not get to present and discuss our drawings, so we will do this at the start of next week's session.
Here are the drawings for now:
Gavin: Outside Aesthetics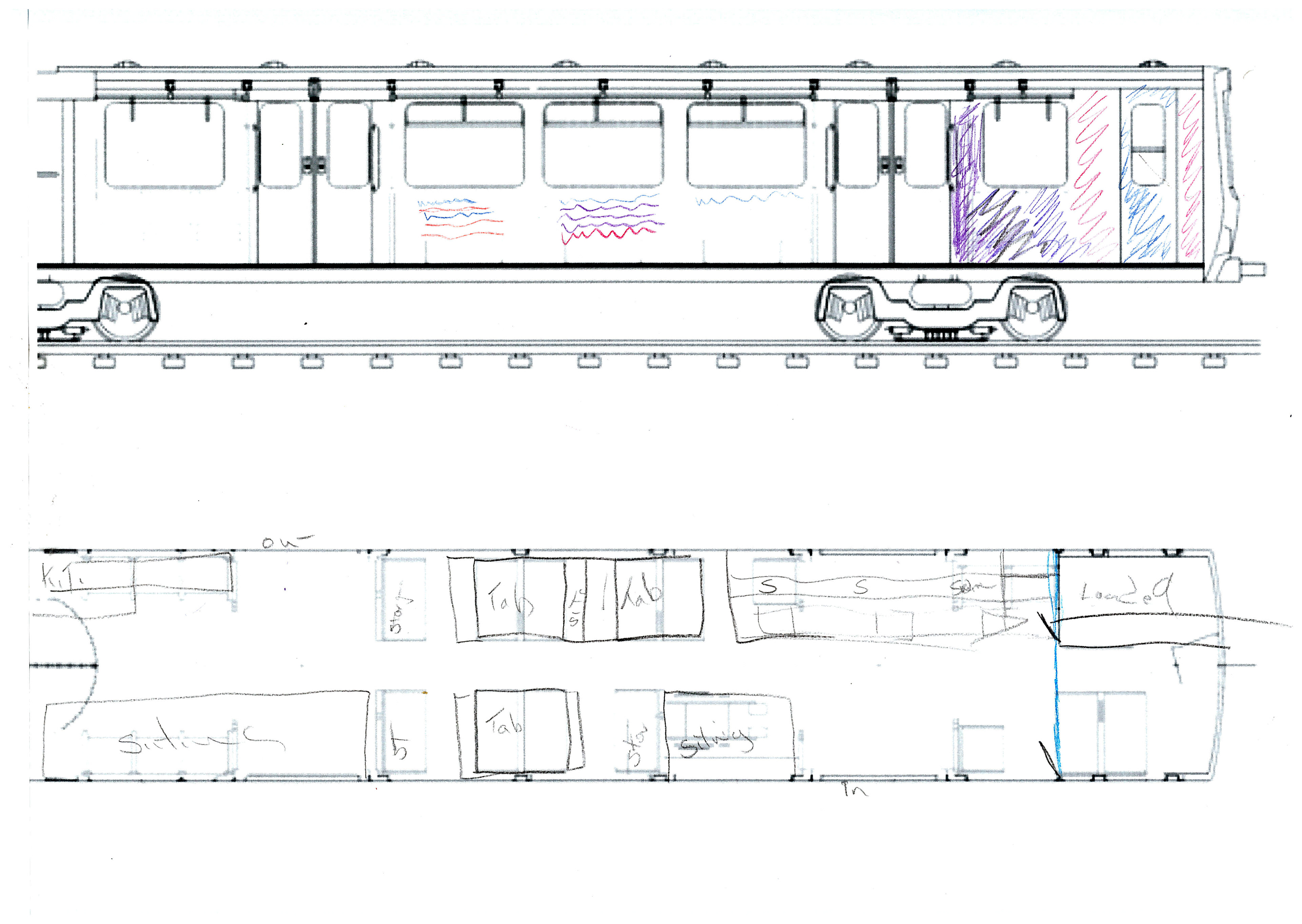 Liz: Arts and Crafts and Mental Health

Seb: Library and Bike Repair