Reaching out to Young People

As part of our conversation, we spoke about the lack of involvement from young people so far. Mike from Phoenix has indicated that there is a new group of spray painters who might be interested. They had a few sessions with a teacher and TJ spoke to them to invite them to come to one of our sessions, but he hasn't heard back.

Rather than hoping for them to come to us, we would probably need us to go them. TJ also suggested to put up posters around here. We could also involve the MWC Kids Club to get young people's opinion.
Liz also suggested to go to schools and offer a few ideas to children and see what they would like to have.
As a next step, Sebastian will write up 3 distinct scenarios that capture the different ideas we have developed so far. Henry will then visualise them with some illustrations. We can then put those ideas to the spray-painting group Phoenix, the young people who go to the Street Play project, and MWC's Kids Club. We can also post it on the social media pages of MWC, Cedarwood and Phoenix and send it to schools.
Presentations of drawings

Austin: Physical Health

Austin drew a medical walk-in centre to take hold of the Metro carriage. In the picture on the left it had a first aid room, which stores all medications and other things people might require, like condoms. To protect the content, there are cameras outside to monitor anyone approaching it. The bottom halves of the windows are also frosted so no one can look inside but there is still light inside.

There is also a disabled toilet there and defibrillators outside of the train.
Further to the middle there is a meeting area all individual doors which can be closed for privacy. Some are equipped with a table, others with beds to lie down for a 1:1 examination.
In the middle there is a curved seating area with storage underneath. This is more space to sit and talk or wait for your appointment. Jokingly, he also put a pole in the middle for pole dancing.
Then there is a training area, where people could learn about their health and any problems they have. It is equipped with TVs for demonstration purposes.
At the right end, there are female and male toilets with baby changing facilities and the staff changing rooms and lockers.
We briefly discussed how this seems to be a big space on the plan, but we're not clear if it would actually fit into the carriage. 
Liz: Arts and Crafts and Mental Health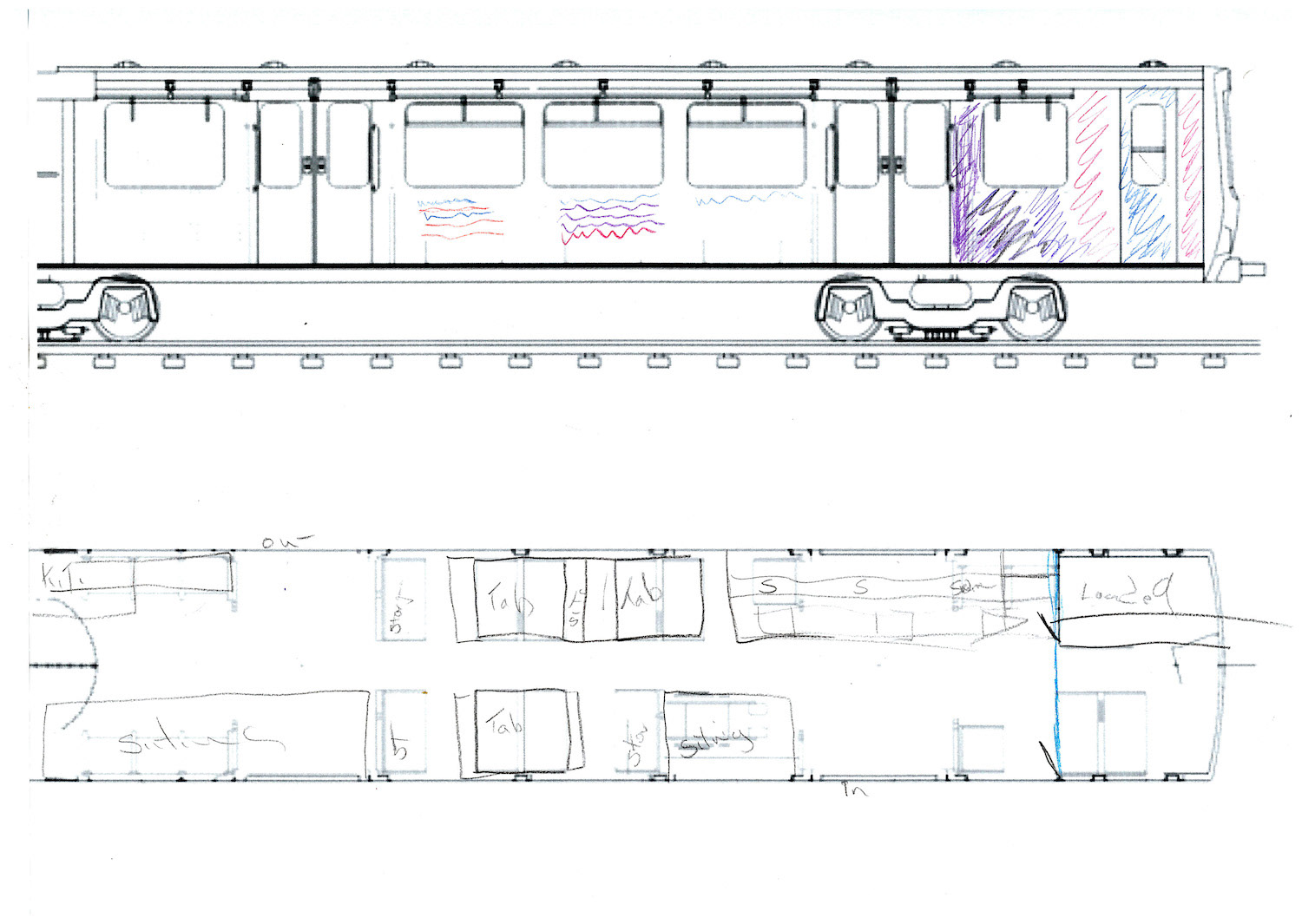 Liz designed her train in two halves. On the right, the driver's cabin is still there, because she wanted to put the driving simulator there. Then she's got sewing machines facing the windows for people to have a nice view while the work. Then there are tables with seating on either side. Towards the middle there is a kitchen and a sitting area so you can sit and talk and have a cup of tea.
On the left, there are mental health services. There is an open sitting area or chillout space and opposite of it, there are cubicles that can be used opened, but they also doors to keep conversations private.
Towards the left end there is a service room to store equipment, including free condoms for people. Opposite of it is the "hub", which is just a fancy term for a consultation room.
Eliz liked halving the train in craft on one side and mental health on the other side. Both parts can be seen as joined together, as some people who come for a mental health service, might become interested in arts and crafts, which can be therapeutical and destressing.
Toilets are on the left end.
Gavin: Green Wall

Gavin focused on the outside of the carriage. He is concerned about the houses that would face the carriage and what they'll have to look at every day. Since we will need planning permission, he wants to avoid any objections by the neighbours. He got inspired by TJ's idea to create a nature wall and What if… the metro carriage was the Tate Modern of Meadow Well. Combining those two, he wants on one side a graffiti wall or art space and on the other side a natural wall. The neighbours would look at the green wall rather than the graffiti wall.

The green wall should be beautiful and go beyond what they can see at the moment (a green meadow and some young trees). He suggested to add bird boxes to get bird songs. Liz didn't have the best experiences with bird boxes, as she found their constant singing annoying after a while, especially in the morning, and they can be quite demanding to be fed more. But she likes the idea of a living wall.
Sebastian went to these houses last week and knocked on the doors. He met 12 people, 3 of them didn't have time to speak. Three were quite positive and said they wouldn't be bothered at all by graffiti or anything like that. Three didn't have an opinion or were on the fence regarding the graffiti. Three were like clearly against the Metro. While they would like it in theory, they think it's will be vandalised pretty much immediately once it's there and then they will have to look at a burned-out Metro carriage.
TJ: Music Recording Studio

TJ turned the Metro carriage into a music recording studio. The middle section is the recording studio itself, which will take up the most room on the carriage. The studio also has mixing decks. From there it is mirrored in both directions, with a practice room at either side of the recording studio. The walls to the recording studio can be opened to increase the size of the studio, so you could record a live band from the practice room. Each room would be soundproofed.

At the two ends of the train, he put a merchandise shop, which is an idea he got from a music studio in Gateshead. They started selling things like T-shirts and other things for the bands that played there. This became really popular. Sebastian suggested you could even have a small workshop to make the merchandise, for example print your own T-shirts. TJ also added a kitchen to sell refreshments and food.
On the outside, the also has flowers and beautiful natural environment.
Liz found that having a recording studio is a great idea, because there are a lot of bands in the area, some of them getting very successfully and there is also a rich history of bands from here.
Henry suggested that we could not only use the Metro carriage itself, but also the space around it. We could turn it into a garden, or a social space, or in case of the recording studio, a performance venue. This connects to the aspects we already discussed in previous sessions, where we said to have a seating area outside.
Seb: Library and Bike Repair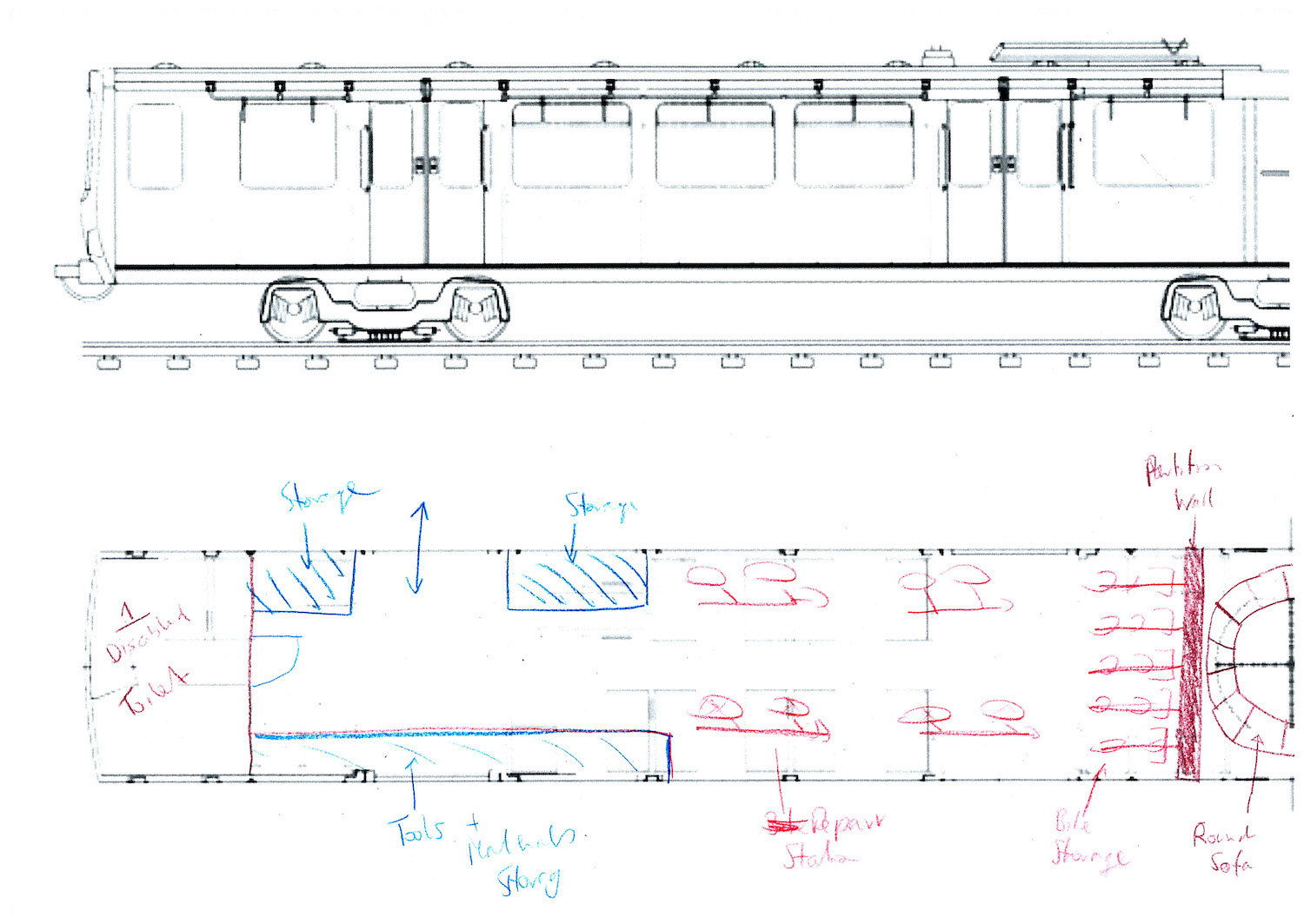 Seb also divided his Metro into two halves. On the right end, he left the driver's cabin left as it is to put the driving simulator in. You could simulate an old Metro ride or with the new Metro, or any other train ride, or even fantasy rides, like going onto the Orient Express or Hogwarts Express. Later we discussed if we could even screens onto the windows so you could simulate the journey not only for the driver but also the passenger.

Seb also liked the seat in the front and wanted to preserve that, so that you can sit there and look outside. Behind it there reused seats from the original Metro, but with added tables to read. Then there are three rows of bookshelves for the library, and then there is more seating with tables and more bookshelves. Towards the middle section there are two beanbags and then the curved seating area.

Then it's also divided by this is then divided by a wall. The left half is a bike repair space. Behind the wall there is storage for bikes, and then there are four service stations to work on a bicycle. Towards the left end there is storage for tools and materials. At the far left there's one disabled toilet.
Austin suggested we could hire bikes from here. While there is limited space, this could generate some income for the train.
Mind map

Sebastian briefly presented the mind map he created based on all previous discussions. It captures all the different ideas for use cases, interior design, exterior design, technical considerations, regulations, governance, risks, and funding.

Everyone took a few minutes to read the mind map to refresh their memory of what we had been talking about.

Here is the updated mind map (based on this week's disucssions):
How could we …. with Lego

Exercise 1: Build a Metro with Lego

Everyone one took a few minutes to build a model train. Here are the results: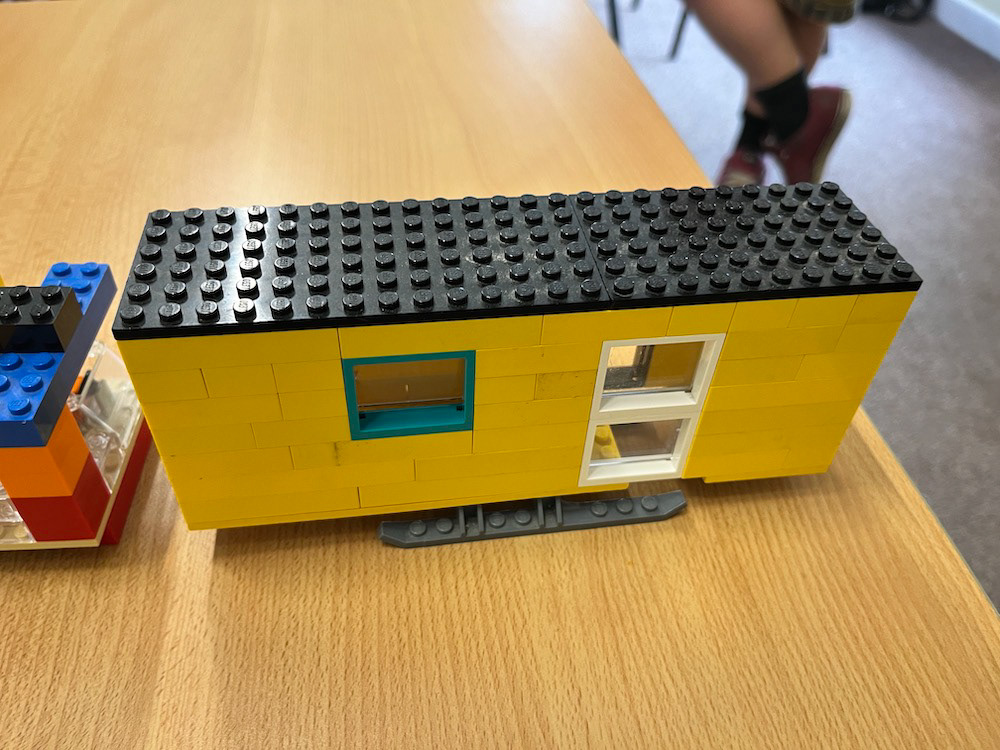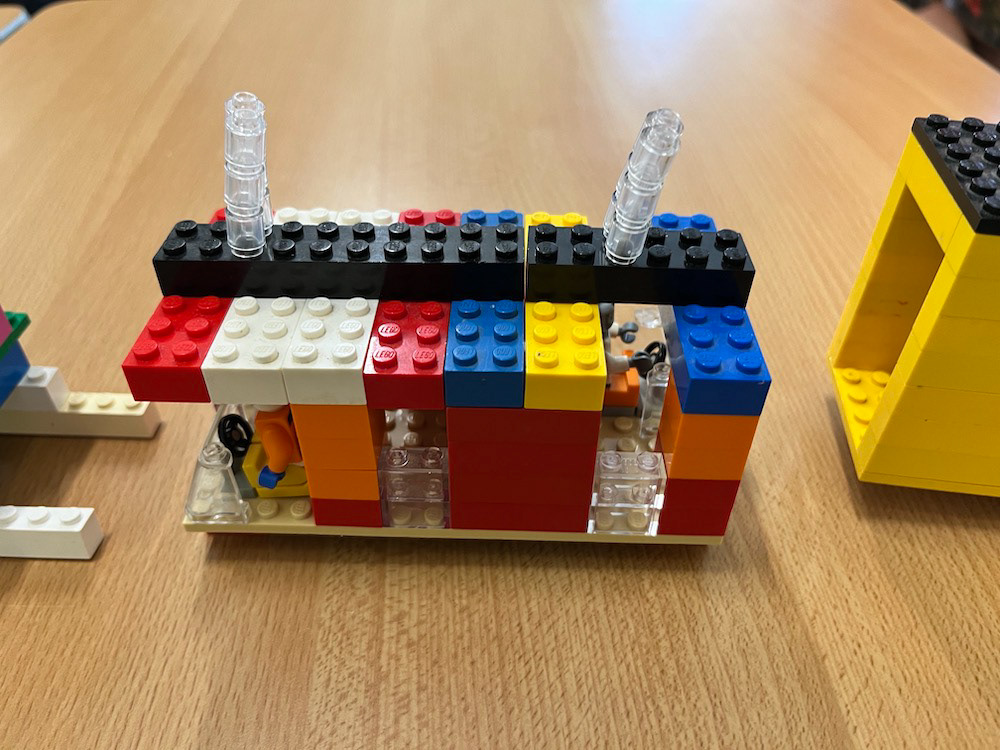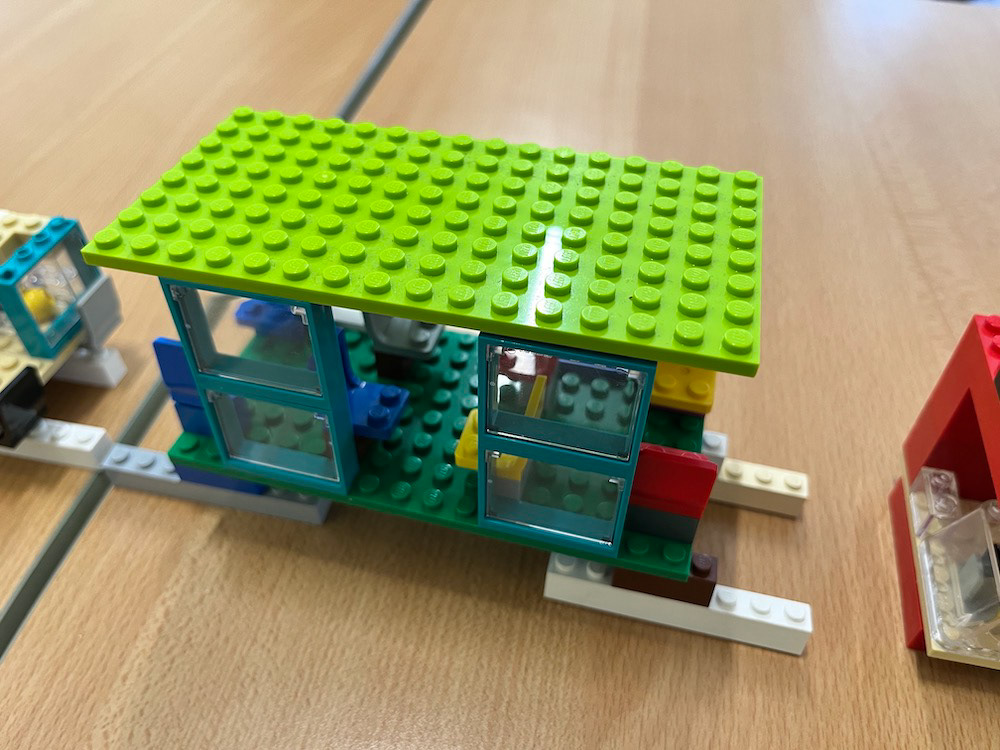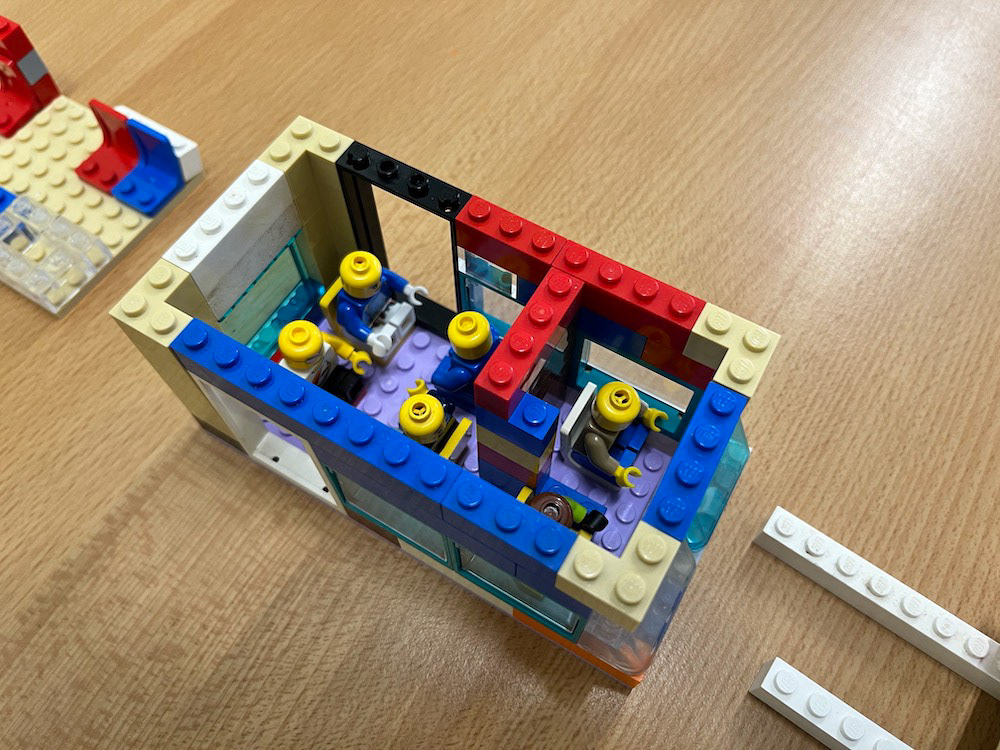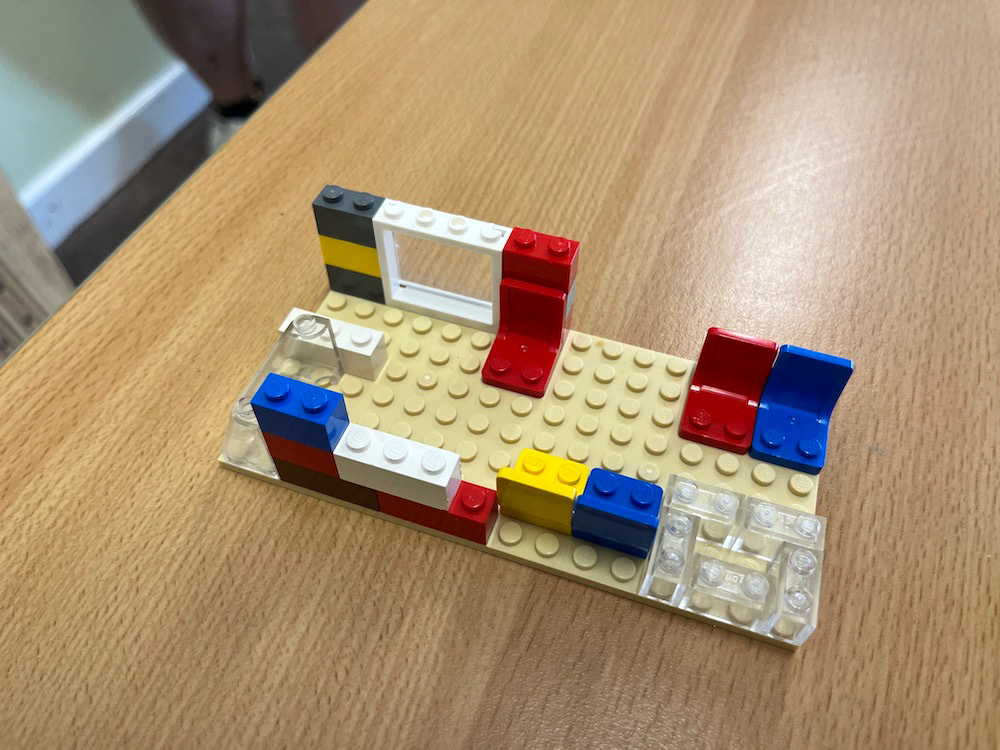 TJ built a straight-forward metro with it's typical yellow colour. He focused on the outside only. Austin's Metro has drivers in the back and in the front and even connectors for power on the roof. Gavin focused on the essential aspects of the metro: chairs, windows, and roof (middle left picture). Henry focused on the emotional experience of different people. In the front there is the cool chair, behind it the figure with the grey hair sits in the priority chair. He also put two awkwardly looking figures for those who sit opposite of each other. Sebastian built a very full but well-behaved Metro train with a driver. Liz built a re-designed Metro train based on her drawing. She put in seating, tables, a kitchen, toilets, and windows.

Exercise 2: Build your Redesigned Metro with Lego

Liz: Arts, Crafts, and Mental Health
Liz reused her earlier model of the inside and put it on top of an outside model she built now. There is still a sewing area, the driving simulator, toilets, seating area, kitchen and the connection to the other half of the carriage. She explained again that the mental health and craft parts are independent but connected. It is not that it is art therapy, you might just go there for the craft. But perhaps people who come for mental health support would also benefit from some relaxing craft activities.

We talked quite a while about her motivation for the makerspace as a space for women to go and socialize and that's not at home or going for a coffee. There are many "men's caves" out there, but there are no caves for women. So the makerspace should explicitly be a space for women.
In terms of look and feel, Liz thought of her first job in a sewing factory, where women not just worked, but they were proud of what they made, and it was place to make friends. She still meets people from back then. In this vein, the Metro carriage could be for women who like to crochet, knit, or sew to meet others and join a group. Perhaps they can donate or sell the things they make as a group.
Henry suggested that they could also offer training for money. If the group can generate their own revenue they would be more sustainable financially, rather than relying on grant funding, which will eventually run out.
Austin: Physical Health Centre
Austin built his health centre. It has a bedroom with a very unwell looking patient inside. In fact, all of the patients have terrible faces. There are female toilets with baby changing facilities and toilets for the gents. There's a person going for treatment, a training area, and smaller consultation rooms. There's a patient ready to go in and see Golum. And he also put in storage areas. He felt that it wouldn't fit into the carriage.

TJ went for a different thing than the music studio because he couldn't find any Lego parts that looked like music instruments. So, he built a chill out room for people to just come and relax. He built a sofa and a TV, but also left some of the original Metro seats. He also added the driving simulator. And he even included a kitchen.

Gavin went for the nature wall we discussed earlier. He thought that water is a nice feature. One of his lingering memories from childhood was his great aunt and uncle, who had kind of water wheel outside on their wall, but it was something like what he built for his model.

Austin suggested we could collect the rainwater to safe drinking water. Liz suggested we could have a pump to pump the water around. Henry asked if we could make the wheel out of a metro wheel, but Austin suggested to use the joinery to make one out of wood. TJ suggested we could even use that to generate electricity.
Gavin built to water wheel to add something special to the grass and greenery that's already growing there, but like we said today, you can already see. It has to look nicer that what's there already. His suggestion is a nice water wheel that's always turning. If you get near it, you even get the sound of the flowing water.
To preserve some features of the old metro, Gavin left the roof of the Metro black. He also added a D-Fib to the back.

Next Week: Making a 1:1 model

Henry suggested that it is a good exercise to draw a full-size metro using masking tape to work out how much space we've actually got for these ideas. It's common for architectural designs to do this, because it is really hard to imagine unless you can actually see it in real life. We can mark out where we'd put furniture and walk around to appreciate the space.

We could draw a third of a train on the floor of the room we meet every week. Or we can put giant bits of wood outside and put flags in the ground to mark it.
We decided that we'd try this next week.