The Metro Carriage's Footprint

We discussed to move the Metro closer to the footpath and a bit further along towards the Station where the grassy bit is wider, so that there is enough space in front and behind the metro to put up outdoor seating. This also avoids it being blocked by parking cars and makes it more visible from the running Metro.
There are young trees planted next to the station exit, but the carriage wouldn't reach that far. We discussed that it would be a good idea to remove the blue fence that's behind the carriage and reuse it at the two short ends of the carriage to create a protected space behind the carriage and a direct access into the garden. There is vegetation but it could be largely left as it is and only an archway leads into the garden. Then there is a seating area in front of the train that is open access 24/7, possibly protected by some fabric roof shielding from sun and rain. To what extent any noise from here potentially disrupts the neighbours facing the green space and the carriage needs to be evaluated. We will also need a bin here to avoid more littering.

We also discussed the walkway to get from one room to the next. With the carriage being rather narrow (2.7m), we could use two thirds of the train to be in, while one third would be needed for a wheelchair accessible corridor. Alternatively, we could have a semi-covered walkway along the outside of the train to access the different rooms so we can make full use of the width of the carriage.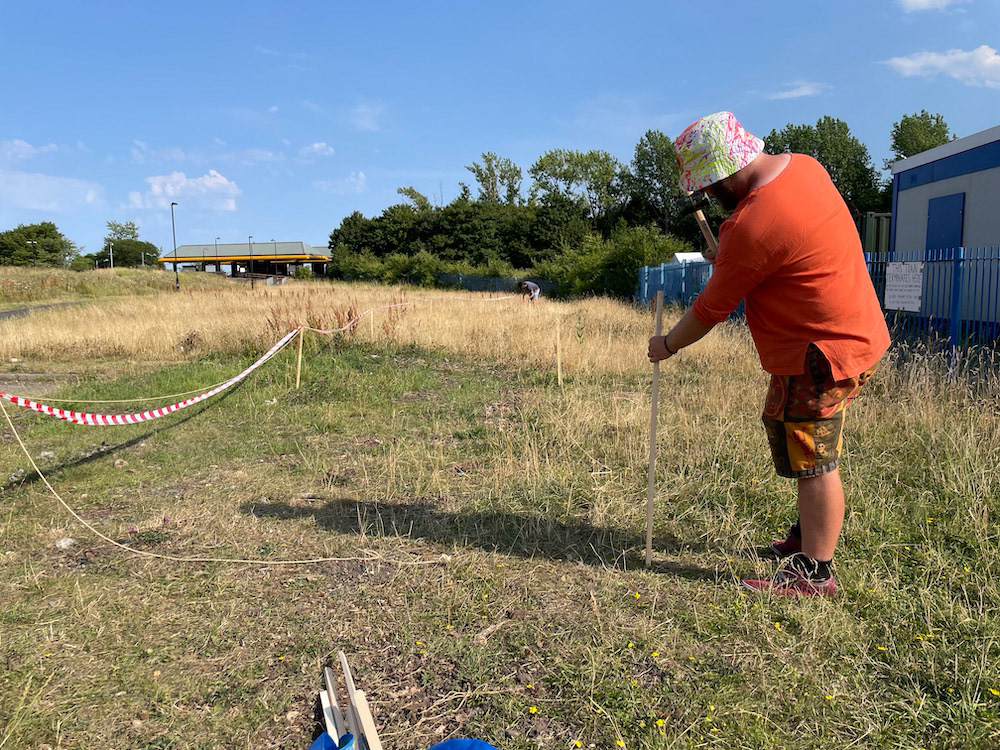 Three Scenarios

Sebastian and Henry discussed all the things we've done so far and put together three themes: The Art Train, the Wellbeing Train, and the Community Train. We wrote short scenarios that show the different elements fit together under one theme. We then put together photo collages to illustrate each scenario. These themes are not meant to be mutually exclusive, but rather illustrative to start a conversation and get feedback. For this we also developed survey questions to be shared with the wider community to ask them for their feedback. We will print them to be given to various groups coming to Meadow Well Connected, Cedarwood Trust, and Phoenix. We will also make an online survey to be shared on social media.
You can download the three scenarios here.
We then discussed each scenario.
The Community Train

Liz felt that the Community train largely duplicates the two community centres that are here already. We wouldn't need a third one. Many things the scenario lists are already going on or have been tried in the past and were not successful. Tea and coffee are offered in both community centres already. Cedarwood trust had a community library, but it wasn't working because there was no one to keep it in order and it turned into a big mess. They dissolved it eventually to use the room for other purposes.

Sebastian argued that the community train is insofar different as it is open late and on the weekend. Austin suggested that we should make this more complementary, by, for example, opening when the other centres close. The other aspect Sebastian wrote into the scenario was the notion that the Metro carriage is more autonomous from the centres and run by people themselves rather than having employees staff managing it. While you would have perhaps one member of staff overlooking it, their main role would be to train community members to take ownership and manage it for themselves. Henry said that this would start with building the train itself, turning it into a training and skill-learning opportunity. The carriage will need a lot of work, including foundations, delivery, access ramp, interior and landscaping outside. This would be very expensive but could also be an enjoyable thing to do for people. The Metro carriage as a space for young people to hang out then becomes a skills training programme. The member of staff would coordinate but the train would be built and then maintained by local people. TJ suggested that this could almost be an apprenticeship programme with an official qualification at the end. Henry argued that we might not be able to provide a qualification recognised by the industry, but the three charities could develop their own certificate which is essentially a recommendation from them that would help young people when they apply for a formal apprenticeship or a job. They would have to commit to a certain number of hours working on the carriage, perhaps accompanied with particular training courses.
We discussed to foreground the making aspect of the scenario a bit more and make clear it's less about coffees and teas. Henry suggested a co-hyphen word, like The Co-making Train, The Co-ownership Train, The Co-Creation Train, The Co-Designed Train, etc. But maybe these words are too academic. Austin suggested The Community Hub Train. Henry then suggested "The DIY Train", which resonated with everyone. We will adjust the images and replace the bookshelf with a DIY image. We will also add the drawing of the metro train to the collage.

The Art Train

We again discussed how to make the train complementing and not duplicating what's already there. For example, there is already a joinery at MWC and a Men's shed at Cedarwood. The MWC joinery is run by Kurt, and he mostly works with children and adults with learning disabilities. For example, the Memorial bench was built by Kurt and school kids. It is used as a place teach children about woodwork. The joinery could potentially build things that go into the train, if there are young people or other volunteers who want to take this on as a project and Kurt has the capacity. However, the joinery is not a space where any resident could go an work for a few hours on a personal project. This might be a function of the Metro carriage instead, as an extension of Kurt's joinery. The joinery is currently open 9-4, during which it is very busy. But it could perhaps also be used after hours. We don't know enough what the Men's shed is doing in terms of woodwork. Austin only knew that they have the necessary tools. We will also add the drawing of the metro train to the collage.
The Wellbeing Train

We talked about how the Wellbeing train is different from the clinic next door or any GP. We agreed that it should focus on mental health and advice on sexual health. "Wellbeing workers" could administer the C-Card scheme and give out at-home STI tests, rather than having trained medical (NHS) staff there. Equally, for contraception, they might not be able to give them out, but they can advise young people on the different options. The space should also be more about holistic wellbeing rather than medical services, including spaces to talk, listen, breath, do yoga etc. – things you typically don't get at a GP. As such, we will replace the image of different contraception with picture of a bookshelf. The Wellbeing workers could also signpost people to relevant other health and wellbeing services, for example if someone wants to stop smoking. It could also assist people in navigating the NHS, such as making appointments. Phoenix does a lot of these things already, so they may be able to advice, but we should again avoid duplicating things. On the other hand, it wouldn't harm having several such services available, as many people might not even know that the Phoenix offers these services.
In terms of yoga, there is an offer at MWC, but it is mostly used by people from outside Meadow Well, such as Tynemouth. We couldn't identify the reasons for this, it might have to do with the prices or that it is not properly advertised. Liz used to go in the past, and initially it was for free. Then they started charging £3 but at the same time the teacher was not consistently running classes, so she moved online. Sebastian wondered if the train is such a good place to do yoga, since it is very narrow and wouldn't have much space.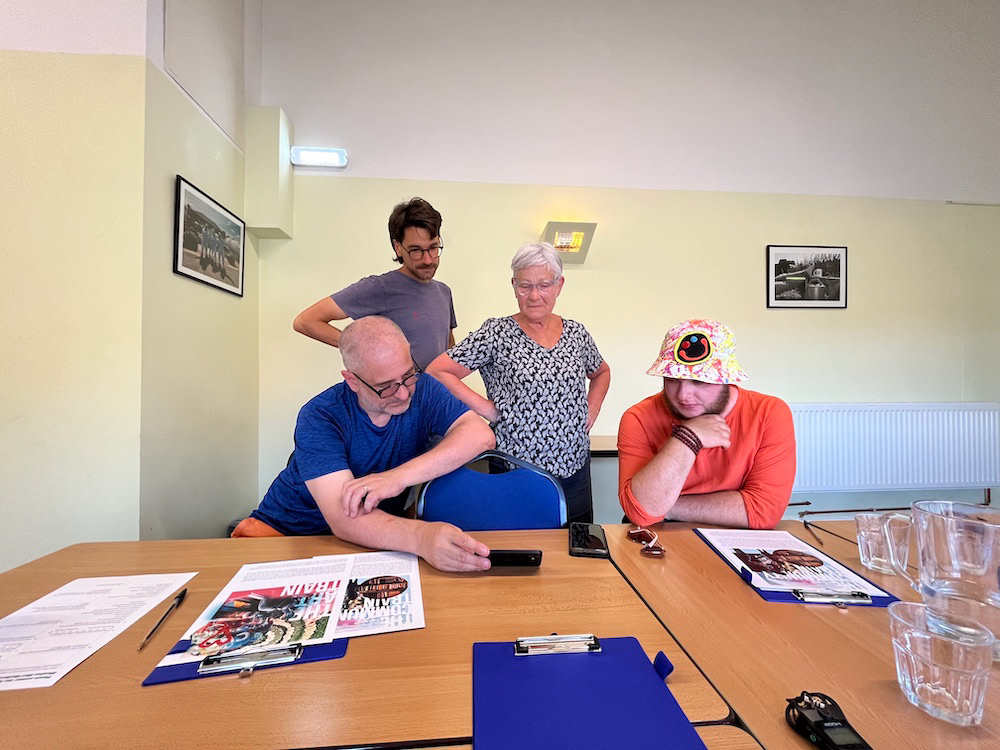 Next Steps

• Henry and Sebastian will update the scenarios as we discussed them.

• They will also make a front cover that explains that we want to put a train outside of MWC, that these are some of our ideas here are some of our ideas what to do with it and invite people for their opinion.

• They will also compact the three surveys into one.

• We will then put it out to various groups at the three community centres and as an online version.

There is the MWC summer fair coming up on the 13th of August. We discussed putting up a cardboard or giant cling film to create mock-up carriage. We can get a street artist who shows people how to spray paint their ideas onto it or illustrates people's ideas.

• Henry won't be here on the 13th but he can help beforehand.

• Liz won't be here, and TJ is working anyway. Austin can be there to help.

• Henry knows a local graffiti artist called Mol and will ask him.

• TJ also knows an artist from Durham called Lewis

• Sebastian is in touch with the YOT spray-painting group at Phoenix and will ask the teacher